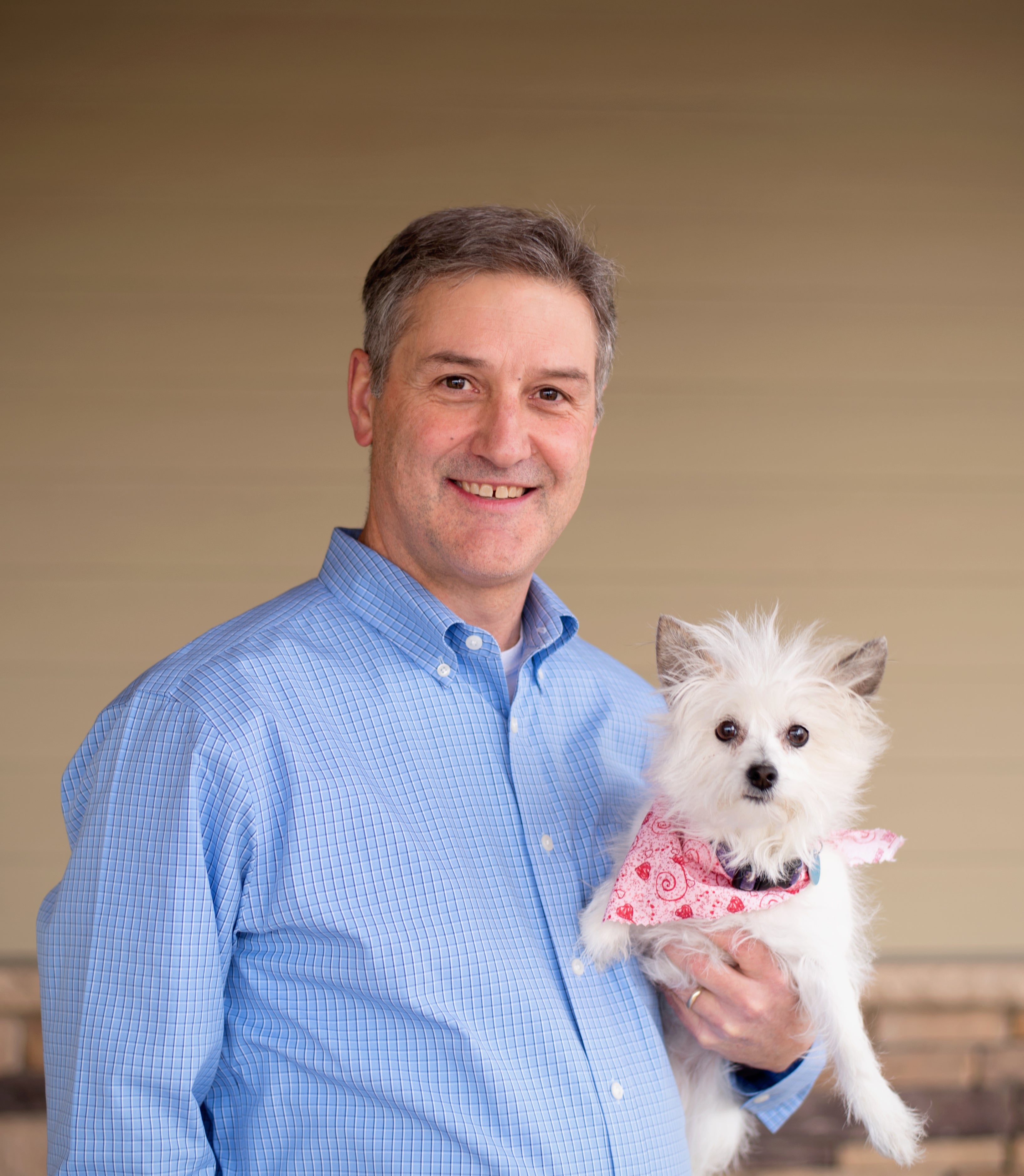 Dr. Paul LeCompte (most of us call him Dr. Paul) opened Kings Veterinary Hospital in 1995. Dr. Paul is an amazing example of someone who truly found their calling in life. If we could tell you only one thing about Dr. Paul that sets him apart, it would be that he creates such great relationships with pets and their people that many of his clients call him a friend first and a vet second. Luckily, we can tell you more than just one thing about him! Dr. Paul leads his team based on several very important principles laid out in our mission statement, namely to treat our clients as we would want to be treated and that each family is unique. If you are looking for a veterinarian that is able to connect with you, will listen to you, will get down on the floor with your pet, and will provide you with top quality care, you have come to the right place.
Perhaps you like the idea of a veterinarian that is a people person, but really want a vet that can get down to the core of what is going on with your pet. You are still in the right place. Dr. LeCompte is an amazing surgeon and diagnostician. His passion for surgery began in vet school and he was always the first to volunteer to learn a new procedure or practice advanced techniques. Through the years he has continued to hone his skills. Because of his vigor for surgery, Dr. Paul performs many surgeries that most vets would send to a specialist. We frequently perform ACL repairs (also called CCL surgery), enucleation procedures, thyroidectomy surgeries, and anal sac removals, just to name a few. Dr. LeCompte is also a fantastic problem solver. It all starts with that listening thing that he is so good at! Dr. Paul gets a thorough history from you and then is fantastic at determining an action plan that will reap the best results. He also has a great interest in behavioral medicine and loves helping people solve behavior problems. Health is not limited to preventive care and disease processes. Behavioral health is an important factor in creating a strong bond between people and their pets. Dr. Paul treats the whole body and that includes anxiety, aggression, and other problem behaviors.
Hopefully, you now know what you need to about Dr. LeCompte, but if you are interested in learning more…keep reading!
Dr. Paul attended the University of New Hampshire, where he played varsity baseball for three years. He received his Bachelor's Degree in Animal Science, with a minor in Psychology, in 1982. He went on to attend the Ohio State University College of Veterinary Medicine and was awarded his Doctorate of Veterinary Medicine in 1987. During his senior year, Dr. LeCompte received an award for excellence in small animal surgery.
Dr. LeCompte and his wife, Michelle, also a veterinarian, are the proud parents of three daughters, Christine, Rachel and Natalie. Their home is filled with pets, including Hoss, a Rottweiler and Emma, a Beagle mix, as well as cats Chick and Leo. Dr. LeCompte also cares for two llamas, Colonel Mustard and Mocha, a horse named Goldie and a donkey named Max, as well as a number of chickens. Around the office, you won't often see Dr. Paul without his devoted shadow, Trixie. She may be little, but this tiny maltese mix couldn't have a bigger heart for her master. She is often found sitting patiently outside an exam room, waiting for him. In his spare time, Dr. LeCompte enjoys reading, movies, carpentry and sports. He takes an annual fishing trip to Canada (other than Reds Opening Day it is the only time he takes off all year). He is a member of Rivers Crossing Community Church.
Dr. Paul takes his entire staff out for an annual Christmas Laser Tag extravaganza! We all get an opportunity to take out our aggression on each other in the name of fun and fellowship. We all pitch in a different dessert and he provides the pizza and soda. You really should work here just to try all of the amazing goodies that the staff show up with…and getting to shoot your boss is awesome!
Welcome to theKings Veterinary Hospital family…we are glad you are here!