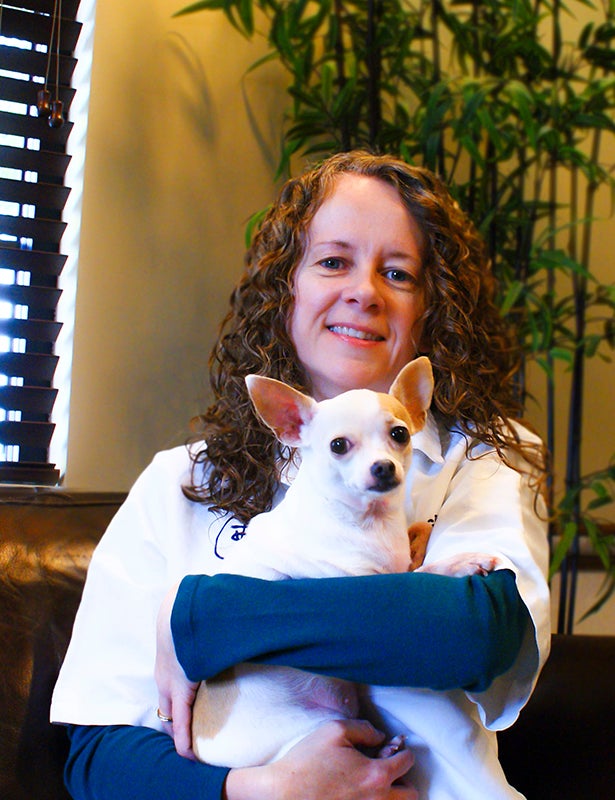 Dr. Kivircik has been with Kings Veterinary Hospital as an Associate Veterinarian since October of 2009. Clients love her thorough, well thought out explanations and her promptness. If you really want someone that can explain the ins and outs of what is going on with your pet in a way that you can understand, Dr. Rita is the vet for you. She is extremely kind and caring with a true heart of gold!
Dr. Kivircik has a brilliant mind which we are all so lucky she has chosen to apply to helping our pets. Her aptitude for veterinary medicine is apparent, especially when it is time to figure out what is wrong with a sick patient. Her logical mind and compassionate spirit are the perfect combinations to give you great advice and excellent support.
When it comes to your pets, Dr. Rita has the best bed-side-manner. She talks each pet through their physical exam and even the most nervous patients seem to respond to her calm and sweet approach. She treats each of her patients with a nurturing mother's heart.
Now you know what to expect in the exam room, how about some fun facts about Dr. Kivircik….
She received her undergraduate degree at State University of New York College of Environmental Science and Forestry (SUNY CESF, for short). She then pursued and received her Doctorate of Veterinary Medicine from Cornell University in 2002 (we told you she was really smart!).
Dr. Rita received her certification in Veterinary Chinese Herbal Medicine. Kings Veterinary Hospital is proud to be able to offer such a diverse approach to veterinary medicine. In addition to her growing repertoire of medical approach, Dr. Kivircik also enjoys Internal Medicine along with Alternative Medicine. She is a member of the AVMA (American Veterinary Medical Association) and OVMA (Ohio Veterinary Medical Association).
When she is not at work, Dr. Rita is an avid Yankees fan and collects baseball cards with her son, Tyler. (We spend a lot of time talking about the Reds in this office :). She also enjoys hiking and spending time with Tyler and her husband, John. She shares her home with dogs Martha (a shepherd mix) and Ruthie (a Chihuahua). Ruthie came to Dr. Rita through a rescue and surprised everyone after a few days when we all realized she was expecting puppies. Dr. Kivircik nursed her through a difficult pregnancy and now Ruthie and her litter are thriving. All of the puppies found good homes and Ruthie has been spayed.